San Pedro Golf Cart Rental Policy
Important Rental Policy note: You will be asked to put a credit card on file. Advanced Golf Cart Rental policy covers rules and driving in San Pedro, Cancellation and Refund. Rental is delivered with a full tank of gas. Absolutely no one should be driving while intoxicated.
Rental Policy – Full refund if cancelled 60+ days prior to arrival.
50% refund if cancelled 30-60 days prior to arrival.
No refund if cancelled less than 30 days prior to arrival.
A 5% handling fee will be charged for all refunds.
No refunds for no-shows or unused portions of rental.
There will be no refunds due to airline delays, strikes, political unrest or
Acts of God, including Hurricanes.
Travel insurance is recommended and can be purchased through Travel Guard International –
www.travelguard.com.
All carts are rented with a full tank of fuel and the renter will return the cart with the same amount.
Failing which the renter agrees to pay Carts Belize for the fuel used as follows:
• ¼ tank – US$10
• ½ tank – US$20
• ¾ tank- US$30
• Full tank – US$40
(Fuel prices may vary according to market trends.)
Insurance covers damages and mechanical repairs to the cart with the exception of the following circumstances:
1. Driving under the influence of liquor.
2. Cart proven to have not been locked.
3. Reckless driving.
Renter is responsible for US $100 deductible.
I agree to return it in the same order and condition as when it was received.
I agree to be responsible for any and all damages caused to the cart while in my possession. By signing this contract, I hereby authorize Advanced Golf Cart Rental to charge my credit card (an imprint of which has been signed by me) for any damages incurred, fuel used or additional time if the cart is not returned by the agreed time.
I agree that any of these expenses incurred and charged to my credit card is final and that I shall not employ the services of my credit card company as a means of settling any dispute related to this matter.
I agree to return the vehicle at the designated time or before and accept that there will be no refund for any unused time.
I agree to pay double the agreed rate for any extra time I have kept the vehicle.
Rental Rules & Driving in San Pedro
A $150USD fee will be charged if the cart has to be towed back.
Abide by all road rules and traffic laws.
Always drive on the right-hand side of the road
Ensure the golf cart is locked when not in use with the locking bar provided. Loss of key or lock will result in fees as follows: Keys – US$10, lock – US$20.
Minimum driver's age – 21 yrs.
No overloading of the cart (4 person max for 4 seaters), (6 person max for 6 seaters).
No driving on the airport runway.
No towing of trailers or other golf carts.
The main street(s) are locally called: Front Street, Middle Street and Back Street.
International driver licenses are accepted to drive a golf cart.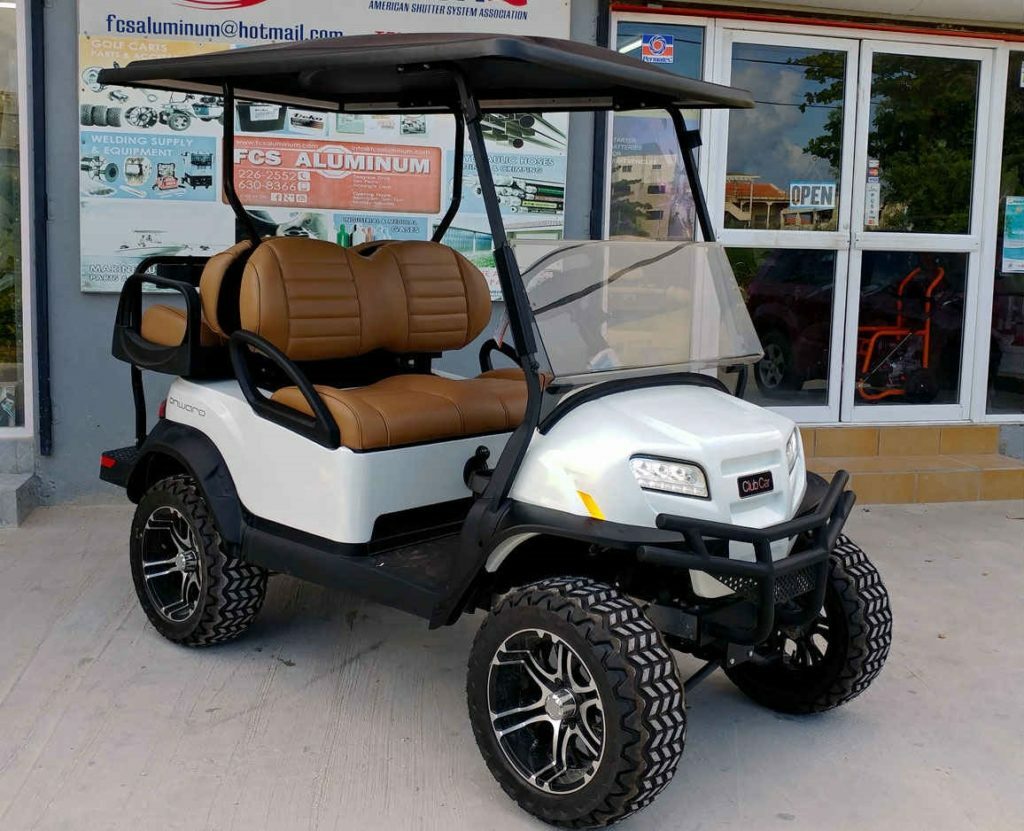 Don't Drink a Drive a Golf Cart.
Thanks in advance for abiding by our rental policy!