About San Pedro and Ambergris Caye Belize
Facts about Belize Biggest Island
Ambergris Caye Belize is one of the top tourist destinations in Central America. As you probably read in the travel guide, the island main mode of transportation is the golf cart. 
Our short guide about the island talks about; how the island got its name, things to do in San Pedro, maps and the Size of Ambergris Caye. 
There are over 200+ islands off the coast of Belize, These islands a locally called CAYES, pronounced keys. Many are inhabited and the largest habited island is Ambergris Caye. over the recent years, many resorts have sprung on the island, some near the coast and some near the Belize Barrier Reef. 
The Barrier Reef system is home to various species of marine life and world-class dive sites. This once-peaceful fishing village is now drawing those looking for an amazing vacation in the tropics.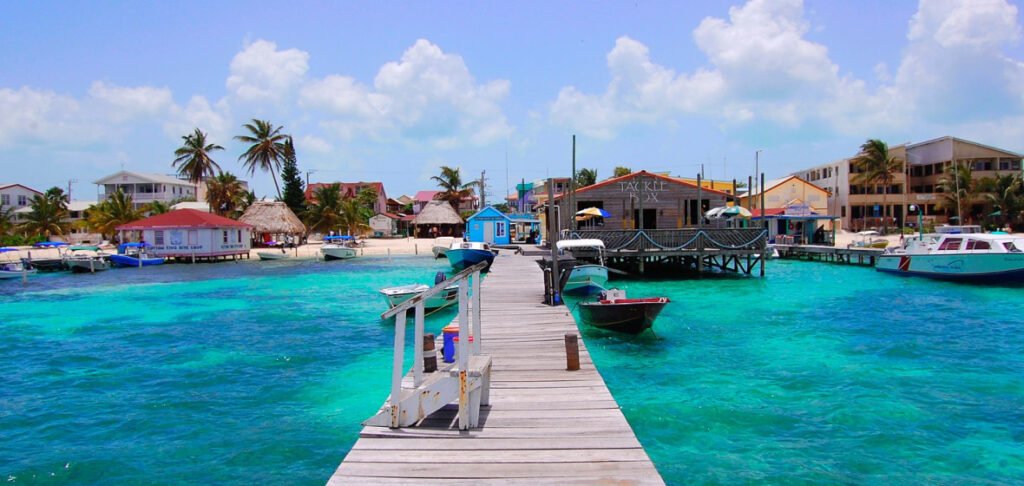 How Ambergris Caye got its name?
It is theorized the Ambergris Caye got its name from pirates the frequently visited the island in the 1800s. These pirates would collect the ambergris, a solid waxy that sperm whales excrete.
If you were to point out Ambergris Caye on a map, it's located in the clear turquoise waters of the Caribbean Sea just off the tip of Quintana Roo in the Yucatan Peninsula of Mexico. The island is located in Northern Belize, due eat of Corozal Town.
How Big is Ambergris Caye?
Don't think small when you thinking about the Size of Ambergris Caye. So! just how big is Ambergris Caye? It is 25 miles (46 kilometres) and about 2 miles wide in some areas. The makes it a long and narrow island, but with plenty of space to hold a vibrant town.
The population of Ambergris Caye is approximately 14,000 persons, with the major of them living in San Pedro Town. The population has grown in the recent 10 years due to expansion in southern and northern areas of the island.
San Pedro Town is predominantly a Mestizo community. Mestizos are by far the major ethnic group, comprising 77% of the population which consist of Maya, Creole and Garifuna. Expats also hold a small percentage of the people living in the town.
Spanish is spoken a little bit more than English. Not to worry, major of the people on Ambergris Caye speaks both English and Spanish fluently.
Upon arrival in Belize at the International Airport (BZE), you may want to book a flight to San Pedro (SPR) local airlines. It takes about 15 minutes to reach the island by plane. Another option is to take a cab to the water taxi in Belize City. This takes about 1 hour and 20 minutes to reach San Pedro, the ferry stops at Caulker Caye before moving one to the island. Do nothing and pamper yourself at a spa!
Adventures and Things to do in San Pedro Town
There is plenty of things to do in San Pedro, with is close proximity to the World's second-largest barrier reef, a UNESCO world heritage site. San Pedro is known for its alluring swimming, snorkelling, scuba diving and fishing, they all make for a great day trip. Tropical nightlife with live music and some hidden secrets, and some free things you can do. La Costa Maya festival is an international festival held in San Pedro every year.
Activities and places you must do with on the island:
Snorkelling at Hol Chan Marine Reserve
Sky Diving the Great Blue Hole
Swim with Sharks at Shark Ray Ally
Go Sailing to Caye Caulker
Try to visit in June for the Lobster fest 
Take the kids to Boca del Rio Park
Do the food tour or just the chocolate making tour
Dining at Truckstop or with locals
take a sunset tour
Is the Island safe to Visit?
Before we get into the safety of this island. It is important to know that, Sexual assault, home invasions, armed robberies, and murders do happen, though most of this activity is gang and drug trafficking-related. Major of this activity happens in Belize City.
Ambergris Caye like Placencia, Caye Caulker and Hopkins Village are a tourism village, and is known for more minor crimes include pickpocketing and sexual harassment. Cash theft and credit card fraud are prevalent around San Pedro.
Don't worry about changing your US Dollars to Belizean dollars. San Pedro and the rest of the country is happy to take USD instead of BZD. The exchange rate is $1USD to $2 BZD.
Map of San Pedro Ambergris Caye
Codons, Hotels and Resort on Ambergris Caye
Belize's Great Barrier reef lying just a mile from town offer various snorkelling adventures. With an alluring beach at your doorsteps, you will find that majority of the Resorts, condos, villas are located along the waterside. Wedding, honeymoon and other special occasions is part of the reason staying on Ambergris Caye is so appealing. They can be found in town and north and south of San Pedro. Arrange your vacation packages with the best tours, to Mayan Ruins and other cultural sites.
Advanced Golf Cart Rental in San Pedro Town
delivers golf carts to either your hotel or San Pedro Airport and Water Taxi.