How to get to San Pedro Belize
Belize City to San Pedro Info
Here are a couple of ways on how to get to San Pedro from Belize City or the International Airport. Non-stop flights from TZA or BZE to SPR is about 15 minute. When travelling from Belize City to San Pedro the boat is about an hour at 15 minutes with a stop at Caye Caulker before moving on to San Pedro Town. Exactly how far Ambergris Caye is from the mainland is about  35.7 miles (57.5 KM).
During this time of the covid-19 pandemic both transportation providers has taken measure to ensure their customer safety. Their cancellation policy has not changed much so you will find it easy to cancel flights or ferry transfers. Of course, the cost and policy of a flight are subject to change.
Upon arrival on the island, you will find that Reefside Golf Carts has two convenient locations where can rent a cart, near San Pedro Airport and the Water taxi. A Golf cart is the perfect rental vehicle for getting around on Ambergris Caye.
Traveling to Ambergris Caye
By Flights to San Pedro Airport
Booking a flight from the International Airport to the island is the fast way to reach this island destination. Direct Flight time is less than half-hour and cost about around $100USD on either Tropic Air or Maya Island Air. San Pedro Airport is pretty much located in the heart of town, which makes a lot of places within walking distance.
Maya Island Air boast a large number of flights to San Pedro. You can book a flight from Belize International Airport commonly Belize City to San Pedro. The Airport code where you will be arriving in Belize is abbreviated BZE. With Maya Island Air Airport in Placencia and other airports, this airline connects you to all of Belize.
It cost between $60USD to $105USD for a non-stop flight from Belize City to San Pedro per person, with a flight time of about 15 minutes. Look for BZE to SPR on your ticket, when flying from the International Airport. Our Office, Budget Golf Cart Rentals on the opposite side of Harmouch Road where Maya Island Air Terminal is located.
Maya Island Air Contact Info
Flight Schedule

Flights from Belize City (Municipal Airport TZA) to
Belize International Airport (BZE) to
San Pedro
San Pedro
FLT #

DEPART
ARRIVE
FLT #

DEPART
ARRIVE
2024
7:30
7:55
2025
7:40
7:55
2064
8:00
8:55
2045
8:40
8:55
2184
11:30
11:55
2065
9:40
9:55
2224
12:30
12:55
2105
10:40
10:55
2264
13:30
13:55
2145
11:40
11:55
2304
14:30
14:55
2185
12:40
12:55
2384
16:30
16:55
2225
13:40
13:55
2424
17:30
17:55
2265
14:40
14:55
2305
15:40
15:55
2345
16:40
16:55
2385
17:40
17:55
2425
18:40
18:55
2465
19:40
19:55
Seasonal(Saturday Only)
2505
20:40
20:55
Seasonal(Saturday Only)
Flights from San Pedro to
Belize International Airport (BZE)
Belize City (Municipal Airport TZA)
Caye Caulker (CUK)
FLT #
DEPART
ARRIVE
FLT #
DEPART
ARRIVE
FLT #
DEPART
ARRIVE
2015
7:00
7:15
2014
7:00
7:25
2054
8:00
8:05
2055
8:00
8:15
2054
8:00
8:25
2214
12:00
12:05
2095
9:00
9:15
2174
11:00
11:25
2374
16:00
16:05
2135
10:00
10:15
2214
12:00
12:25
2175
11:00
11:15
2254
13:00
13:25
2215
12:00
12:15
2294
14:00
14:25
2255
13:00
13:15
2374
16:00
16:25
2295
14:00
14:15
2414
17:00
17:25
2335
15:00
15:15
Tropic Air is the alternative airline to fly with looking for flights to San Pedro and other destinations in Belize. Tropic Air flights are either a couple of minutes before or after Maya Air. This airline also has a direct flight from Belize International and Belize City to San Pedro. Of the two airlines that fly to the island, Tropic Air has an Airport in the Cayo district, great for those looking to get from Belize City to San Ignacio.
Tropic Air also provides flights to other countries in Central America. Great for those looking to travel to ambergris caye and not change airlines, something all vacation packages should try to include.
Ferry From Belize City to San Pedro
For the travellers looking for a more economical option of getting to San Pedro from Belize City. The Water taxi is the best alternative to flights from the mainland. Located on North-front Street at the Haulover Creek month in Belize City, is where you will find both ferry terminals.
Here's how you get to San Pedro from Belize International Airport. you would most likely take a taxi from there to the Water taxi, in rare cases travellers take the bus to Belize City the Taxi.
San Pedro Belize Express is a reliable and trustworthy transportation provider. Their customer service is second to none. 
This water taxi provides ferry service to Chetumal, southern Yucatan Peninsula and northern Belize. A well-established route is between Belize City and San Pedro, which they manage quite well with the large fleet of boats.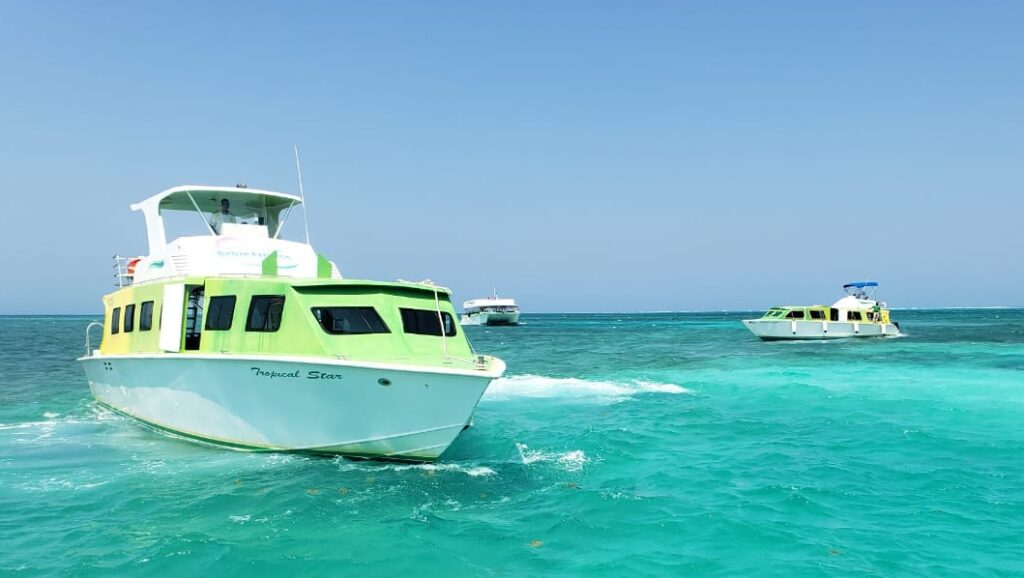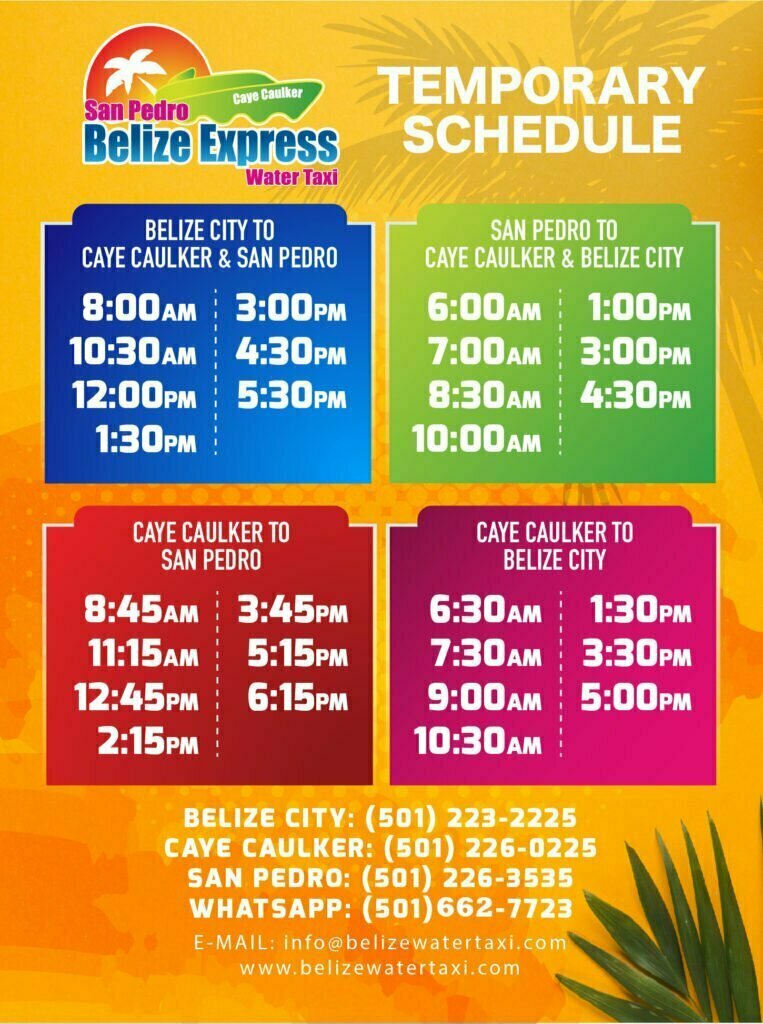 The Ocean ferry is a second option for travelling to San Pedro and Caye Caulker. The ferry time is similar to other water taxi schedules. This company rely mostly on you showing up at the terminal in Belize City.
After a flight or ferry ride from Belize City to San Pedro, the next step is getting to your Hotel, Resort or Airbnb. You may have arranged for your transportation with the place you are staying already, or you may have opted in to rent a golf cart on the island.
Of all the Golf Cart Rental Companies on Ambergris Caye, you will find that Advanced Golf Cart Rental is one the top rental company. Located near the San Pedro Airport across from Maya Island Air and across from San Pedro Belize Express Terminal. Our Golf Cart Rental will Deliver your cart at the Airport of Water taxi at no extra charge.
It cost about $15USD to rent a 2 seater golf cart for 4 hours to $50USD for 2 days. A 6 seater golf cart cast $40USD for 4 hours and  $75USD for 24 hours. Gas-powered Golf carts are widely known to be the main mode of transportation on the island. There are plenty of other special features which makes our golf cart the one you should rent. See more of our rates.